Nowhere Men - Actual Scientists or Their Effects?
Nowhere Men is one of those books that has been on my list for a long time. I found this book
when Comixology first started and had a section for new Image books. I've always been a fan of
science fiction that focuses on the actual scientists instead of the effects of the product they
make. Nowhere Men is quite literally exactly what I wanted, with the book focusing almost
entirely on the scientists and how they as people influence the world around them.
Nowhere men was created by Eric Stephenson and Nate Bellegarde. Both creators are seasoned
veterans at Image Comics, having worked on titles like "Battle Pope" and "They're Not Like Us"
respectively. Nowhere Men is the story of four brilliant men creating the most powerful and
influential company in history, and how their egos and eccentricities allow them to justify their
actions in the giant and complex ethical landscapes they have created.
Nowhere Men exists in a world where scientists are treated like Rock Stars. The four founders
of World Corp. are seen as "The Beetles" of this world and influence a generation of scientists
to follow in their footsteps. This leads not only to a massive influx in technological and scientific
innovation, but also to more complex issues like 'science punks' and the habit of hiding more
elicit research from the private eye. A major theme of this book is the line between moral
responsibility and economic gain, seen in how the founders of World Corp. bicker about what is
too far for the company, and how those risks influence how far they go in the future. Nowhere
Men is unique in how it presents information and how it builds the world the story exists in.
similar to Watchmen, Nowhere Men is full of supplementary material. This material includes
sections of autobiographies about the characters, newspaper articles, and advertisements
created by World Corp. to promote new products. I think this is an interesting way to inform
the reader of information they're not immediately privy to as the book progresses but offers a
context as to why the characters act the way they do with each other.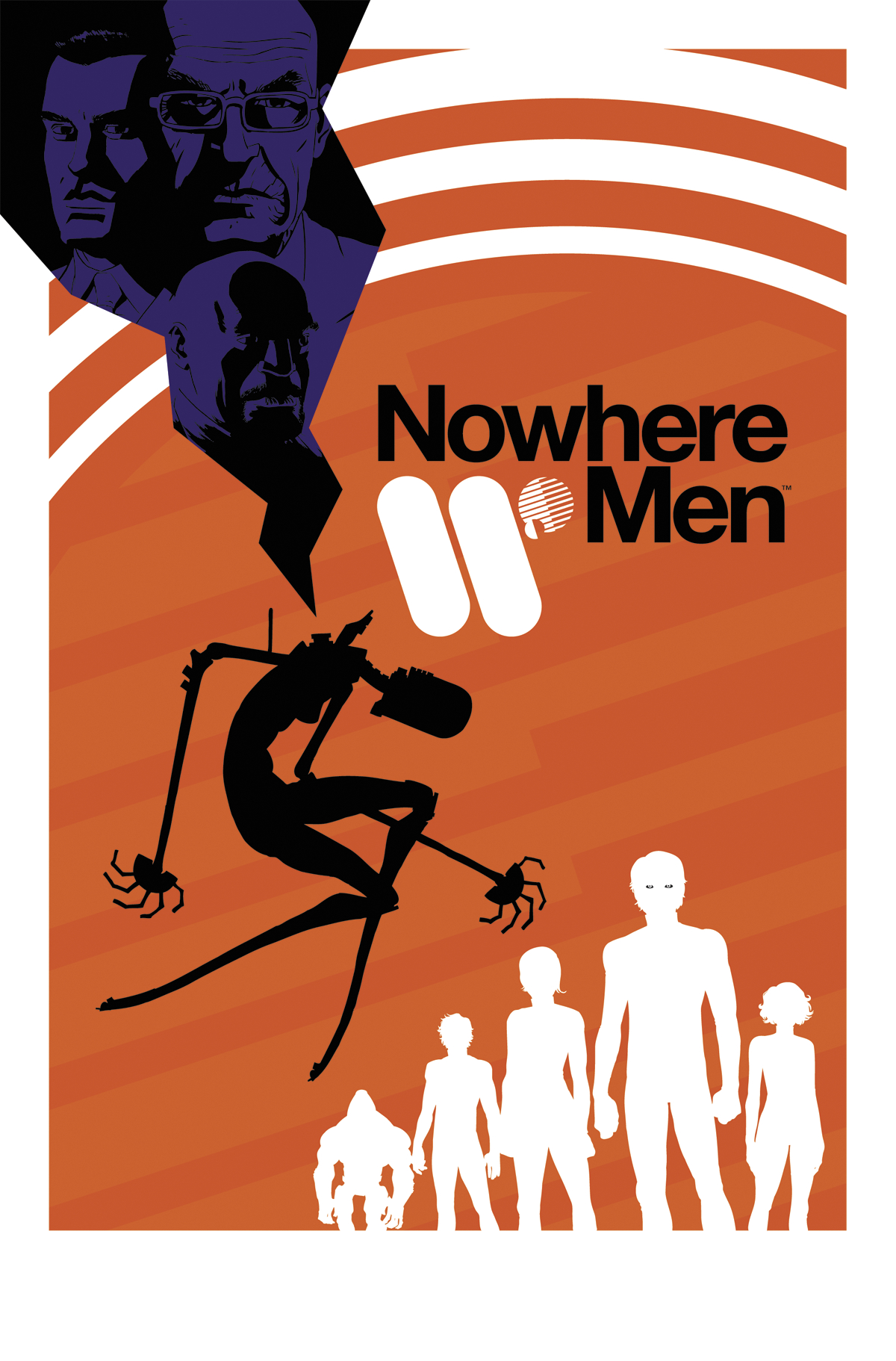 Nowhere Men is a very unique look at the science fiction genre that explores the people behind
the science instead of just the monsters it creates. Sometimes it seems that the scientists
themselves are the monsters because of what their egos allow them to do.
I recommend Nowhere Men for fans of deep science fiction, and fans of Hickman's "Black
Monday Murders" or "Manhattan Projects" will enjoy this. Fans looking for a deep or dense
read will also want to pick Nowhere Men up, as the supplementary material really adds to the
amount of things to read as the story continues.
--------------
"SCIENCE IS THE NEW ROCK 'N' ROLL." So said Dade Ellis, Simon Grimshaw, Emerson Strange and Thomas Walker at the dawn of a new age of enlightenment that ushered in a boom in scientific advancement. As the research supergroup World Corp., they became the most celebrated scientists of all time. They changed the world - and we loved them for it. But where did it all go wrong? And when progress is made at any and all cost, who ultimately pays the price?
Recent Posts
Amazing Spider-Man #55... An iconic cover that will be sought after for years to come. Patrick Gleas …

When I think about Disney World, I immediately think of the Carousel, Space Mountain, and Mickey Ic …

I don't think I've ever been as frustrated by having not read something as I have been thisweek. I s …